I made several changes and additions to the platform zombie shooter I started a couple of days ago, including:
Pistol and machine gun shots do not go through enemies.

Sniper rifle added.

Sniper rifle and shotgun bullets go through enemies.

Pistol, Shotgun, Machine Gun, and Sniper Rifle are all pick-ups.

12 playable levels.

2 different graphics for enemeis.

Enemies will lose their heads when hurt.

Dual-Wieldable weapons (all of them are dual-wieldable).

Instructions at the beginning of the game given to you from a zombie (oh, the irony).

Double Jump unlockable.

New background graphics.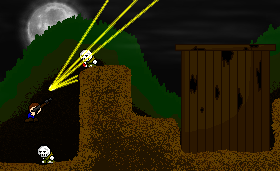 Here shows the shotgun right after I shot it at an enemy with the new enemy graphics.
Download Links: