Helm:

This will increase your health by 50 and also give you a pretty awesome new look.

Body Armor:

Also increases your health by 50 and changes your body.

Armored Gloves:

Increases your health by 50 as well, and covers your hands in a red metal. Pretty awesome.

New Sewer Level:

The last sewer level just dropped off to the right, but now I've connected it to a new sewer level stacked with explosives that leads to an uncovered manhole in the city.

New City Environment:

I've added a new city setting with buildings on the skyline and a post office level.

Post Office:

Inside the post office there's a wonderful corkboard with important papers, a computer, a coffee mug... Oh yeah, almost forgot about the helm!

Increased Priest Zombie Health:

The priest zombies now have twice as much health as before.

Opening Logo:

The game now starts of with my new Nintendo-esque logo!

Shotgun:

The shotgun now can not shoot through enemies any more.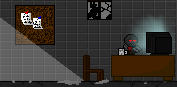 Another day at the office.
Download Links: