Celebrating the one month anniversary of the website with version 2.0 of the Zombie Shooter!




I've decided to expand upon my armor upgrade from the last update by adding many different types of upgrades, consisting of 5 sets of outfits each with gloves, a body piece, and a hat. These can all be found throughout the game as pick-ups. They have different effects on your health through how much they upgrade, but they are more for graphical effect than anything. The enemies also have a small update which allows them to jump after you at a much faster speed, which helps to make the game more challenging. I hope you enjoy the update!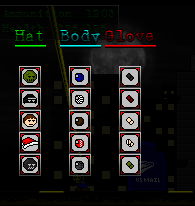 If you think this looks oddly familiar to my
Blast
inventory, you're right.
Download Links:
I just added a gameplay video on youtube for this update (sorry for the quality, it's a little lacking due to some .avi issues)